By —George A. Redding, California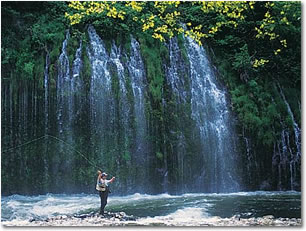 WATERFALLS are abundant in northern California, but the remote town of Dunsmuir boasts two cascades that are easy to reach.
Hedge Creek Falls is in Hedge Creek Park on the north side of Dunsmuir, just west of I-5. The trail to the 30-foot-high falls starts by a picturesque little picnic area with great views of the Sacramento River, the river canyon and Mount Shasta. The path winds serenely, but sometimes steeply with steps, down to the falls. You can even walk behind the falls.
Mossbrae Falls, just north of town, is nothing short of spectacular! A subterranean stream breaks through the lush moss-covered hillside and cascades 50 feet into the sparkling Sacramento River below. At about 150 feet wide, it looks like a number of individual falls all clustered together!
Dunsmuir is on I-5, about 57 miles north of Redding. The entrance to Hedge Creek Park, which is within the city limits, is immediately west of I-5 via the Siski-you Avenue exit.
To reach Mossbrae Falls from downtown Dunsmuir, head north on Dunsmuir Avenue just past the city limits, then bear left on Scarlett Way, under the bronze Shasta Retreat subdivision arch. Cross the bridge and railroad tracks, then park and take the gravel right-of-way along the railroad tracks for 1 mile to the fall; be sure to watch out and step aside for trains.
For details, call the Dunsmuir Chamber of Commerce at 1-800/386-7684 or visit http://dunsmuir.com.
Interested in camping nearby? Check out KOA campground locations in California.
This KOA Travel Information is Sponsored by:
Reiman Publications