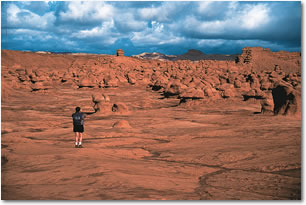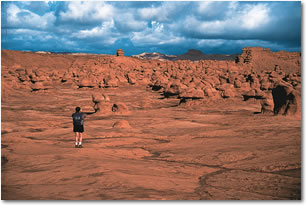 Utah is full of well-traveled marvels like Arches, Bryce, Canyonlands, Capitol Reef and Zion National Parks. But don't overlook a little-known natural wonder that's equally worthwhile: Goblin Valley State Park.
You've never seen such unique and enchanting rock formations. Carved by eons of wind and water erosion, the mushroom-shaped carvings look like so many mischievous goblins, hence the name.
Goblin Valley is unique because you can walk around down in the valley among nearly 4 acres of these geological "goblins". This allows you to experience Mother Nature's handiwork firsthand as you meander among the unusual balanced rocks, spires and pedestals. It's a hiker's and photographer's dream!
Cowboys searching for cattle first discovered this secluded valley. In the late 1920s, Arthur Chaffin, the owner of a local ferry, "rediscovered" the valley. He returned in 1949 to explore and photograph the valley and its formations, and it was designated a state park in 1964.
Don't pass up this well-kept Utah secret.
Fast Facts
Goblin Valley State Park is about halfway between Hanksville and I-70 and a 12-mile drive west of State Highway 24. About 20 miles north of Hanksville on Highway 24, look for parks signs; head west on the Goblin Valley access road for 5 miles and then south for 7 more miles to the park. For more information, visit their website at utah.com/goblin-valley-state-park.
Interested in camping nearby? Check out KOA campgrounds in Utah.