Artisan community on the California coast hits all the right notes.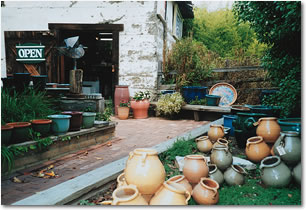 If you're ever near San Luis Obispo on the southern California coast, be sure to stop in the charming little hamlet of Harmony, population 18.
Harmony used to be centered around a dairy, the Harmony Valley Creamery Association, founded by Swiss farmers in 1869. The dairy produced some of the state's finest cheese and butter.
The dairy products were so good that celebrities like newspaper magnate William Randolph Hearst, who lived just up Highway 1 in his palatial Hearst Castle, and silent-film star Rudolph Valentino were frequent customers.
But the town was virtually abandoned after the dairy moved to San Luis Obispo in the 1950s. That all changed in 1972, when a revival began. Slowly, artisans transformed the old dairy buildings into a collection of art studios, shops and galleries.
You'll discover little gems like Harmony Pottery, which features a large pottery gallery and studio…Phoenix Studios, which specializes in handblown glass…Harmony Cellars, an award-winning winery that also sells gourmet food and unique gifts…and many other artists who produce handmade jewelry and pottery.
The town itself has been restored to its original rustic beauty and vitality, full of gardens and flowers. In fact, Harmony is so pretty that it's also becoming a popular place to get married. What could be better than tying the knot in Harmony?
Fast Facts
Harmony is on the southern California coast, just a few miles south of Cambria in San Luis Obispo County; it's along State Highway 1, just south of where it meets State Highway 46. There is no Chamber of Commerce, but the folks at Harmony Pottery are happy to answer any questions. Call them at 1-805/927-4293.
More to See… Just a few miles north of the Hearst Castle in nearby San Simeon you'll find the elephant seals of Point Piedras Blancas. You might see as many as 2,000 of these fascinating animals at one time, depending on the season.
Interested in camping nearby? Check out KOA campgrounds in California.