Old Military Planes Still Soar At Museum Near the Grand Canyon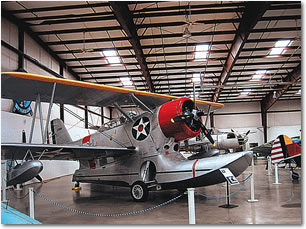 Near the Grand Canyon in Arizona is a great, but little-known attraction-the Air Museum Planes of Fame, based at the Valle Airport in Valle.
This collection of about 30 aircraft was established in the 1950s by Edward Maloney, a plane enthusiast who was dismayed about the wholesale scrapping of planes after World War II. (A sister facility in Chino, California features many more.)
Ed made it his personal mission to save at least one of every kind of aircraft possible, with an emphasis on World War II "warbirds"-including foreign aircraft. Many of the planes still fly and are the only ones of their type left.
The collection includes vintage aircraft such as a Grumman F11F-1 Tiger…a Messerschmitt Me-109G-10/U4 Gustov…a DeHavilland Vampire Mk III…and a Lockeed C-121A Constellation. It's quite a thrill to see these old warbirds!
The airport/museum (755 Mustang Way) is at the junction of U.S. Highway 180 and State Highway 64, about 25 miles south of the South Rim entrance to Grand Canyon National Park and roughly 50 miles northwest of Flagstaff via Highway 180.
The museum is wheelchair accessible. For details, consult The Planes of Fame website at www.planesoffame.org.
Interested in camping nearby? Check out KOA campgrounds in Arizona.