By Bernice M. Weatherford, Texas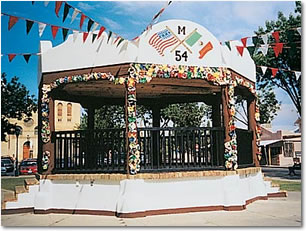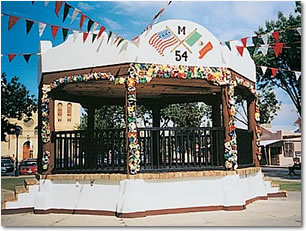 WE'VE VISITED New Mexico often. But my husband, Henry, and I somehow missed picturesque Mesilla until recently, when an RV park owner steered us that way.
Many of the village's adobe buildings near its central plaza date to the 1850s. In fact, the historic building that houses La Posta de Mesilla restaurant once was a stagecoach stop.
A lively social center in the 1880s, Mesilla drew any number of Wild West characters. We visited the Billy the Kid gift shop, located in the building where the notorious outlaw was tried, sentenced to hang and jailed before escaping.
Today, Mesilla's colorful and historic plaza (pictured above) serves as the hub for special celebrations as well as a farmers and craft market. We enjoyed visiting the unique shops, dining on delicious regional fare and chatting with the friendly people.
Mesilla (listed on some maps as La Mesilla) is on State Highway 28 in south-central New Mexico, 4 miles south of Las Cruces and 1 mile south of I-10 (Exit 140). The Visitors Center is located at 2340 Avenida de Mesilla.
To learn more, call the Visitors Center at 1-505-647-9698 or browse around at www.oldmesilla.org.
Interested in camping nearby? Check out KOA campgrounds in New Mexico.
This KOA Travel Information is Sponsored by:
Reiman Publications