A onetime miner carved out his niche-a sprawling 14-room home-in a sandstone cliff in Utah.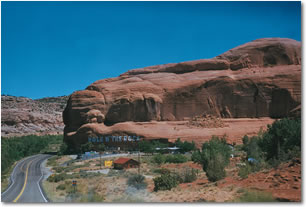 The unusual Hole N' the Rock, an attraction tucked in a sandstone cliff near Moab in southeastern Utah, is one of those attractions that make backroad travel such a joy.
As you head north toward Moab on U.S. Highway 191, you'll see a huge rock wall, painted with large white letters that read, "Hole N' the Rock."
The "hole" is actually a 5,0000-square-foot home chiseled out of solid rock. Albert Christensen, a former miner, spent 12 years excavating 50,000 cubic feet of sandstone to create the 14-room home.
Albert and his wife, Gladys, moved into the house in 1952, and also operated a diner there. After Mr. Christensen died in 1957, his widow continued running the restaurant and added a gift shop.
Since this isn't a natural cave, the air is arid and dry, and remains a constant cool temperature. The rooms need little heat and no air conditioning.
The abode has all the comforts of home, including electricity, a solid-rock bathtub and a fireplace with a 65-foot chimney. Mr. Christensen also carved out many little shelves where his wife displayed her collectibles and dolls.
Mrs. Christensen died in 1974 and was laid to rest next to her husband in an alcove near the home's entrance. The grave, of course, is also chiseled out of rock.
The Hole N' the Wall is an amazing feat, and well worth a visit.
Fast Facts
The Hole N' the Rock (11037 S. Highway 191) is about 12 miles south of Moab on Highway 19 in southeastern Utah. For more information, check out The Hole in the Rock online at www.theholeintherock.com.
Interested in camping nearby? Check out KOA campgrounds in Utah.