Spectacular scenery and unique adventures await you
When it comes to a vacation destination, big, beautiful Canada has it all: two stunning coastlines, the world-famous Canadian Rockies, Great Plains, Great Lakes and great people. Your options for adventure in Canada are as varied as its vast borders. Sip café au lait at a Montreal sidewalk café. Cast for trout alongside a remote Rocky Mountain river or fish for northern pike on a pristine lake hidden deep in the woods of Ontario. Crack crabs overlooking Halifax Harbour or toast the harvest in British Columbia's vineyard-rich Okanagan Valley.
Canada's dazzling diversity is matched only by the KOAs you'll discover along the way. "Our recent stay at the Niagara Falls KOA was our first time at a KOA Kampground," says Donna White of Semcoe, Ontario. "There were lots of activities to keep our kids happy. We enjoyed it so much, we've already booked another weekend visit."
Uniquely Canada. Collect coins with beavers, moose and other animals and bring home a handful of change. Coins make great souvenirs for little ones. Want to look for the real thing? Wildlife abounds at the Gros Morne/Norris Point, Newfoundland KOA. Start your hunt with a stroll down the campground's "Moose Path."
French Practice. Bonjour, Monsieur et Madame! Try speaking French while traveling through Quebec. The bilingual KOA staff in Montreal West, Montreal South and Quebec City KOAs can help you with a few basic phrases. Many other Canadian KOAs have bilingual staff too.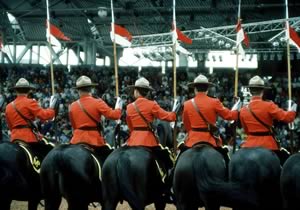 Magnificent Mounties. Learn more about the red-coated lawmen at the Royal Canadian Mounted Police Depot and Centennial Museum in Regina, about an hour west of the Indian Head, Saskatchewan KOA.
A Royal Feast. Did someone say queen crab? This sweet, flaky seafood tastes even better when purchased from a fisherman and enjoyed on the sands of a Nova Scotia beach. Hosts at the Halifax West or North Sydney/Cabot Trail KOAs can help direct you to both.
Canadian Flavors To Savor. Try Nanaimo bars, a minty chocolate dessert named after Nanaimo, British Columbia (ask about them at the Victoria West KOA), and locally tapped maple syrup, available at the campground store at the Sault Ste. Marie, Ontario KOA.
Mint-Green Mountain Lakes. The water's eye-popping color comes from glacial silt. Check it out in the Bow River and in the glacial lakes you'll see along Alberta's Icefields Parkway, which winds from Jasper to Banff National Park. Then again, the sights are pretty grand at the Hinton/Jasper KOA.