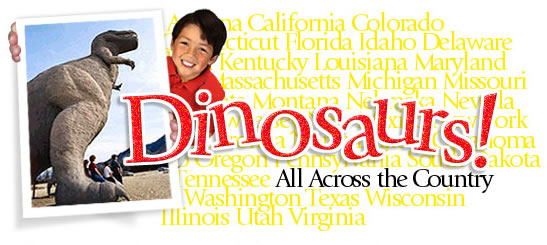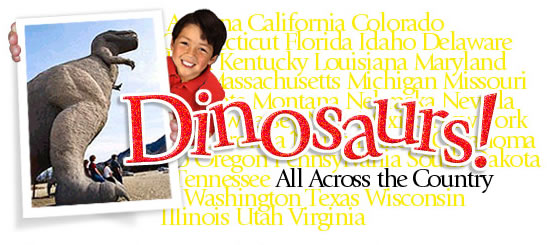 From still active dig sites to cool hallways in which immense skeletons loom, to fascinating exhibits which display the most recent theories on lifestyle this list sums them all up. Coast to coast, from sunny California to Connecticut, the U.S. offers dinosaur lovers and their families a chance to get up close and personal with natural history. Only what we believe to be the best is featured on this list. Of course if you've visited a fantastic dinosaur site, let me know and I will add it. Have a great time… tracking Dinosaurs. (This information has been supplied to KOA.com by Amanda Nelson-Duac of the familytravelfiles.com for contact information please refer to the end of this composition.).
Arizona
Petrified Forest National Park. I loved this place when I was eight. Why? This is the place to buy rocks and fossils. The area itself is not very exciting unless you know what to look for along the way. We purchased an audiotape at the Petrified Forest Museum. It is called Dawn of the Dinosaurs. It provides just enough information so that the ride is not boring. It is not a story tape so it is best suited for those older than six.
The visitor's center features the skeletons of many dinosaurs, some older even than T. Rex. The skeletons include Triassic phytosaurs, similar to modern day crocodiles. A Junior Ranger certification program is also offered. This area is desolate and wild looking. It is an easy day trip from the Flagstaff area. The gift shops adjacent to the gas station have copious specimen choices. Holbrook. 1 (928) 524-6228, www.nps.gov/pefo/index.htm or pefo_superintendent@nps.gov.
California
Petrified Forest. This location is privately owned and operated. It is located in the hills between Napa and Sonoma Valleys. In the early part of the 1900s geological students excavated what is now known to be world's largest petrified trees. Almost all of the trees were Redwoods, and they all laid in the same southwestern direction. There is still some excavation going on. The trail on site allows visitor's to step back in time, more than 3 million years, and follow the trail of majestic petrified redwood giants. This is also a place that needs to be explained but even without an explanation the hiking is nice and it is in wine country, a benefit to many adults. Calistoga. 1 (707) 942-6667, www.petrifiedforest.org or forest00@jps.net.
Natural History Museum of Los Angeles. This is an awesome place no matter what your age but it is essential for any eight year-old. My sister and I return about every two years and although it seems to be getting smaller it is always excellent. They have a world-class collection of reconstructed dinosaur skeletons, such as Camptosurus, Allosaurus, and Tyrannosaurus rex. Put this one on the "Not-to-be-missed." List if you are with kids and in LA. This facility offers summer programs for kids who dig dinos. The programs organized by age groups allow kids to get an in depth look at paleontology and the scientists that work in the field. Kids go on a pretend excavation, tour the Dinosaur hall and investigate fossils. Los Angeles. 1 (213) 763-DINO, www.nhm.org/site.
George C. Page Museum La Brea Discoveries. Imagine Los Angeles before Hollywood and movies. The George C. Page Museum is a research as well as an educational facility. The Page Museum is located at the Rancho La Brea Tar Pits, one of the world's most famous fossil localities, recognized for having an unusually diverse assemblage of extinct Ice Age plants and animals. Special Note: The best part is the Pit 91 Excavation. Each year from July 14 through September 8, visitors may watch scientists unearthing fossils from the Ice Age in North America. Volunteers recover bones from beasts like saber-toothed cats and dire wolves that died in the sticky asphalt deposits 28,000 years ago. The Pit 91 Visitors Observation Station in Hancock Park is open free to the public Wednesday through Sunday, from 10 a.m. to 4 p.m. Los Angeles. 1 (323) 934-PAGE, www.tarpits.org, info@nhm.org.
Colorado
Denver Museum of Nature and Science. Features a fossil prep lab, dinosaur models set in lifelike dioramas, and displays on ancient mammals and prehistoric man, as well as skeletons of Diplodocus, Stegosaurus, Coelophysis, and Lambeosaurus. Denver. 1 (303) 322-7009 or 1-800-925-2250, www.dmns.org Devil's Canyon Science and Learning Center (Dinamation International Society). A large number of robotic dinosaurs, exhibits on volcanoes, glaciers, and earthquakes, a working fossil lab and dinosaurian fun are all available at the Science and Learning Center. They offer vacations for families; contact the museum for more info. Fruita. 1 (970) 858-7282, 1-800-344-3466,  Museum of Western Colorado/Dinosaur Valley. Features five lifelike animated scale models, as well as "death pose" dinosaur skeletons and a working fossil preparation lab. Grand Junction. 1 (970) 242-0971, www.museumofwesternco.com, mstricklan@westcomuseum.org.
Connecticut
Peabody Museum of Natural History. From Costa Rican gold to saber-toothed cats to the once mighty dinosaurs visitors will find it all. Eleven wildlife dioramas of North America and New England, as well as displays highlighting Plains Indians and Polynesian ethnographic collections. New Haven. 1 (203) 432-5050, www.peabody.yale.edu.
Dinosaur State Park. Features one of the largest dinosaur track sites in North America. Beneath the geodesic dome, is an exceptional display of early Jurassic fossil tracks that were made nearly 200 million years ago by several types of dinosaurs. Things to do include making a real plaster casting of an actual dinosaur track if visitors bring their own plaster of Paris, liquid cooking oil and materials for clean-up. There is also a life-size model of Dilophasaurus on display. Special note: Hearing is believing. Onsite is PVC sculpted creation of a full-size Parasaurolophus crest. It was created to simulate the call of this herbivorous dinosaur. Powered by an air compressor, the "crest" produces a variety of impressive sounds. This display illustrates a possible function of the crest–communication. Rocky Hill. 1 (860) 529-8423, www.dinosaurstatepark.org, friends.dinosaur.prk@snet.net.
Delaware
Dino Days. Dino Days is a public art project located on the sidewalks of downtown Wilmington. This exhibit of 48 decoratively painted dinosaurs is available for public viewing 24 hours a day, 7 days a week. This exhibit of dinosaur statues is associated with the Delaware Museum of Natural History, a fascinating visit, even though there are no exhibits on prehistoric reptiles at this time. 1(302) 658 – 9111, www.delmnh.org, dinodays@hmns.org. Related Articles: Delaware: Wilmington, Easy to Imagine for Families.
Florida
Florida Museum of Natural History. This is one of the top ten paleontological museums in the United States. Rather than dinosaurs, the extensive collection has a focus on early mammals and marine animal fossils. This museum also features exhibits on the flora and fauna of North Florida, and exhibits on the people and environments of Florida. Virtual exhibits on St. Augustine: America's Oldest City The Aucilla River Prehistory Project, and Fossil Horses in Cyberspace, as well as others are available on the museum's Website. Special note: They have a program called "Pony Express" that is designed to promote the scientific study of fossil horses. They sponsor fossil digs several times a year at a site, Thomas Farm locality in north Florida, known to be 18-million years old. The Thomas Farm digs are open to persons over the age of 15 (minors must be accompanied by a parent or guardian). Once a year they conduct a family day-dig. Erika Simons is the Program Coordinator. Contact esimons@flmnh.ufl.edu or phone 1(352) 846-2000 ext.255. Gainesville. 1(352) 846-2000 (Dickenson Hall), 1(352) 392-1721, www.flmnh.ufl.edu.
Mulberry Phosphate Fossil Museum. Exhibits display the fossils discovered when the area was being mined for phosphate as well as exhibits on the phosphate industry. Mulberry. 1 (813) 425-2823, https://www.mulberrychamber.org/.
Idaho
Hagerman Fossil Beds National Monument. Considered one of the finest fossil beds in the world, rich with mammals and other prehistoric animals from the Pliocene Period. Hagerman Fossil Beds also contains the largest concentration of Hagerman Horse fossils in North America Hagerman. 1 (208) 837-4793, www.nps.gov/hafo/index.htm, jan_harper@nps.gov.
Illinois
Field Museum of Natural History. Displays such ancient skeletons as a Brachiosaurus, remodeled to reflect exciting new theories. The theorized way of life for such dinosaurs as Albertosaurus, Lambeosaurus, and Apatosaurus are also on exhibit, as well as mastodons, mammoths, saber-toothed cats, ground sloths and other prehistoric animals.
This is also the home of Sue, one of the most complete Tyrannosaurus Rex skeletons ever found. She (the dinosaur) is located near the back in the central part of the first floor. On the third floor an entire gift store has information on Sue and dinosaurs. On the same floor there is a fossil preparatory laboratory where paleontologists continue to build Sue from the excavation. More than 90% of the skeleton body of Sue is original not a replica. The head is displayed on the 3rd floor and a fake one is sitting on Sue. The reason, the head is to heavy for the frame to hold.
The third floor also has other dinosaurs on display along with many hands-on activities. In other areas of the museum you can learn about butterflies, plant and animal life or most science related topics you can think of. Besides science, the museum is loaded with cultural information. On the third level we found "Life Over Time". This is an exhibit that describes 3.8 billion years through life. We found more dinosaurs and a lot more details about them. (The "Underground Adventure" is also a blast. It depicts the web of life underground. Everything is 100 times its normal size.) Chicago. 1 (312) 922-9410, www.fieldmuseum.org.
Indiana
Falls of the Ohio State Park. The fossil beds at this state park are said to be some of the oldest in the world, some of the fossils are more than 350 million years old. There is also a 16,000 square foot interpretive center with exhibits. Fishing, hiking, fossil viewing, bird watching, and picnicking are among other activities to do at the park. Fort Wayne.1 (812) 280-9970, www.indianaoutfitters.com/fallsohio.html.
Kentucky
Big Bone Lick State Park. This state park was once a salty, sticky swamp where prehistoric mammals met their death. Their fossils were discovered and placed on display, for everyone to see. Union. 1 (859) 384-3522, www.parks.ky.gov.
Louisiana
Audubon Nature Institute-Pathways to the Past. A natural history museum on the grounds of the Audubon Institute, Pathways to the Past, in devoted completely to exploring the dinosaur/bird connection. The museum was designed for young people, but is fascinating for all ages. New Orleans. 1 (504) 861-2537, www.auduboninstitute.org, air@auduboninstitute.org.
Maine
Maine State Museum. Exhibits feature Ice Age Mammals, including mammoth and mastodon remains and an ancient walrus skull found by a fourteen-year-old clam digger. Augusta. 1 (207) 287-2301, mainestatemuseum.org, maine.museum@state.me.us.
Maryland
Calvert Marine Museum. Come and search for and collect Miocene fossils 10 to 15 million years old. This opportunity is rare; it is illegal to remove most fossils from state or federal land. Upper Marlboro. 1 (410) 326-2042, www.calvertmarinemuseum.com, information@calvertmarinemuseum.com, strozida@co.cal.md.us.
Massachusetts
The Museum of Comparative Zoology. Unique to this museum's hall of vertebrae paleontology is Stupendemys, and ancient turtle native to South America, 5 or 6 million years ago. Several other ancient and rare reptiles and fish are also on display. Cambridge. 1 (617) 495-3045, www.mcz.harvard.edu C. Nash Dinosaur Museum. Once called "Dinosaurland", it features an amateur collection of fossils collected by Mr. Nash himself. Many of the fossils shown are also for sale. South Hadley. 1 (413) 467-9566, www.nashdinosaurtracks.com.
Michigan
University of Michigan Exhibit Museum. Has a display of prehistoric life in its Hall of Evolution that includes remains of Allosaurus, Stegosaurus, Anatosaurus, Tyrannosaurus rex and Apatosaurus. Permanent exhibits on dinosaurs and other prehistoric life, Michigan wildlife, Native American culture, anthropology, geology, and a planetarium can all be found in this museum. Ann Arbor. 1(734)764-0478, https://lsa.umich.edu/ummnh/.
Minnesota
The Science Museum of Minnesota. This museum features skeletons of such dinosaurs as Diplodocus, Allosaurus as well as several Camptosauruses. Dinosaur eggs, and fossils of ancient crocodiles rare in Minnesota are also displayed. This is an amazing place, located along the river almost in downtown. The docents at this museum relate to all ages and though it has a cathedral like main hall once inside it is cozy and pleasant for small children. Saint Paul. 1 (612) 221-9444, 1 (612) 221-9488, www.smm.org, info@smm.org.
Missouri
Mastodon State Park. Until a mammoth skeleton with a spearhead wedged in its side was discovered in 1976, in what is now Mastodon State Park, there was no proof that man and Ice Age beast coexisted. When you visit the park you can see a replica of this now famous skeleton and retrace the steps that led paleontologists to the dig site. Imperial. 1 (636) 464-2976, 1-800-334-6946 www.mostateparks.com/mastodon.htm, moparks@mail.dnr.state.mo.us.
St. Louis Science Center and Dinosaur Park. The area just outside the science center is 'alive" with dinosaur reconstruction models including a Triceratops and a Tyrannosaurus rex. Inside the science center is a new fossil center with many paleo resources, including more models, experimental videos on dinosaur lifestyles, and other displays. St. Louis. 1 (314) 289-4400 or 1-800-456-SLSC, www.slsc.org, slscweb@slsc.org.
Montana
Museum of the Rockies – Paleontology. A world-class museum headed by Jack Horner, the father of a Maiasaura nesting site called "Egg Mountain". Due to the discovery of a baby hadrosaur skeleton and whole new species, Maiasaura the "good mother lizard", was discovered. Exhibits at the museum illustrate how duckbill dinosaurs might have cared for their young as well as much more. Kidspace logo identifies touchable fossils in Landforms/Lifeforms, and the Triceratops skull by the Fossil Bank. During summer months they conduct Dino Camp for kids. (July 1-2 – 9 a.m.-3 p.m. August 6-7 – 9 a.m.-3 p.m.) Dinosaur "detectives" spend two days digging, learning how dinosaurs took care of their young, make fossil casts, and more. Bozeman. 1 (406) 994-DINO, 1 (406) 994-2251, www.museumoftherockies.org, wwwmor@montana.edu.
Nebraska
Agate Fossil Beds National Monument. This monument features one of the richest mammalian fossil bone beds ever found in the United States. Among the fossils are fossils of such mammals as Menoceras and Moropus. The dig site is still active, and paleontologists can sometimes been seen at work. Gering. 1 (308) 668-2211, www.nps.gov/agfo/index.htm or AGFO_Superintendent@nps.gov
Ashfall Fossil Beds State Historical Park. This is a place "Not- to-be- missed." Drive out of your way if you like pre history at all. The complex is small and it is easy to talk with scientists. That is the best benefit. The science they are doing is real and they are willing to talk about it. The best thing to do is follow the marked interpretive trail. The years diminish as the path leads to the excavation sites.
Prehistoric mammals gathered at this site, once and ancient watering hold. A sudden volcanic eruption from the Cascade Range brought ash so thick that the animals were covered before they could escape. Onsite is a visitor center as well as a working paleontology lab and field office.
Part of the excavation site known as the "Rhino Barn" is under a roof and protected from wind and rain. Scientists work under this roof as well as in open areas along the pathway. One of the most amazing skeletons is of a Rhino that was pregnant. Both mom and baby may be seen from the viewing platform. Royal. This is really a surprising place to go with kids. When we were there it was possible to talk with scientists when they were taking their breaks from digging. The lab has observation windows. So visitors may watch the whole process of preserving the fossils or bones found at the site. 1 (402) 893-2000, www.ashfall.unl.edu.
Nevada
Berlin Ichthyosaur State Park. The park has a fossil shelter that features nine fossilized sea serpents, Ichthyosaurs "fish lizards". Austin. 1 (775) 964-2440, http://parks.nv.gov/parks/berlin-ichthyosaur.
New Jersey
New Jersey State Museum. This museum's resources include Hadrodaur or duckbill fossil evidence. Ice Age mammal fossils are also on exhibit. The four major components of the museum cover archaeology/ethnology, cultural history, fine art, and natural history. Trenton. 1 (609) 292-6330 www.state.nj.us/state/museum/index.htm.
New Mexico
Ruth Hall Museum of Paleontology. This museum displays more than 100 complete skeletons of Coelophysis, one of the smallest carnivorous dinosaurs. Albuquerque. 1 (505) 685-4333, www.nmculture.org New Mexico Museum of Natural History. This museum features a wealth of paleontological wonders such as life-like scenes of a Parasaurolophus, and other dinosaurs like the Stegosaurus, Camarasaurus, and Coelphysis. Albuquerque. 1 (505) 841-8837, www.nmnaturalhistory.org, jarnold@nmmnh.state.nm.us.
New York
American Museum of Natural History. This is an incredible place to enjoy with kids. A trip here can be overwhelming so plan to take a break in the park and return. Need I say, "Not-to-be-missed." For the dinosaur connection there are three dinosaur halls with copious displays of mounted dinosaur skeletons. Tyrannosaurus Rex, Stegosaurus, Apatosaurus, Baraosaurus, and Allosaurus are among those featured. Special Note: The Science and Nature Program for Young Children offers weekday classes during the school year, designed to educate children ages 3 to 9 and their parents about the wonders of science and nature. The Summer Camp Program is offered for children entering grades 4 or 5 in September 2002. Each session includes hands-on investigations, tours behind-the-scenes, and visits with Museum scientists. The different camps offer Paleontology, Archeology, Herpetology, and Astrophysics. 1 (212) 769-5079 for more information. New York. 1 (212) 769-5100, www.amnh.org, www.amnh.org/common/contact/index.html?visitorinfo.
North Carolina
Natural Science Museum. In addition to a "Dinosaur Gallery" as well as a room full of fossil exhibits, a petting zoo, and a planetarium there are also dozens of other fine elements for families to explore. The World's first dinosaur ever discovered with fossilized heart is on display. The fossilized heart is on display in the museum's new $71-million building, which opened April 7, 2000. Greenboro. 1 (919) 733-7450, 1-877-4NATSCI, www.naturalsciences.org, www.dinoheart.org, museum@naturalsciences.org.
North Dakota
Dakota Dinosaur Museum. This 13,400-square-foot dinosaur museum has ten full-scale dinosaur skeletons and a life-size model of Triceratops. There is also a library, children's corner and working fossil lab. Dickinson. 1 (701) 225-DINO, www.dakotadino.com.
Ohio
McKinley Museum of History. The "Discover World" portion of the museum features a fine collection of dinosaur exhibits including a fully animated robotic model of an Allosaurus. Also on display is a dig-site reproduction. Canton. 1 (330) 455-7043, www.mckinleymuseum.org.
The Cleveland Museum of Natural History. A Dunkleosteus, a Nanotyrannus, and a Haplocanthosaurus are all on display. An international team of scientists, including a former Museum curator, in 1974, discovered the partial skeleton of 3.2-million-year-old called "Lucy". Formally known as Australopithecus afarensis, this entirely new species of human ancestor provides valuable clues as to when and why humans began to walk upright and evolve larger brains. The Museum possesses the only specimen of Nanotyrannus lancensis, a small tyrannosaur. This museum also offers opportunities for kids to dig dinosaurs, discover nature, and even attend the Museum's overnight sleepovers (called Museum Camp-ins). There are also classes for parents and kids to explore the wonders of nature together. Cleveland. 1 (216) 231-4600, https://www.cmnh.org/, info@cmnh.org.
Oklahoma
Oklahoma Museum of Natural History. This is a family friendly museum that will entertain and educate but not overwhelm a good thing when on vacation with kids. Cool things include a rare horned rodent, Epigaulus hatcheri, is on display, along with better-known mammals such as ground sloths, giant bison, and early camels. One of the best displays is a skeleton of a baby Apatosaurus . In the Ancient Life gallery, displays show the dramatic changes in Oklahoma's environment over time and how that influenced the dinosaurs' eventual demise.
The journey through the Ancient Life exhibit begins in Oklahoma's Precambrian seas with an abundance of early marine life. Visitors then experience the Age of Dinosaurs and the rise of mammals. The Discovery Room in the museum has hands-on, self-paced educational experiences that reflect the main themes of the museum's exhibits. This museum is terrific and the city is a nice place for families. Nice means not overwhelming for little ones yet ideal for teens because of the University of Oklahoma. Norman. 1 (405) 325-4712, https://samnoblemuseum.ou.edu/.
Oregon
Prehistoric Gardens. Sculptor E.V. Nelson began his work with prehistoric creatures in 1953. The replicas of the prehistoric creatures are scientifically correct restorations, authentic in details. Their size and shape are based on the measurements of fossil skeletons. Port Orford. 1 (541) 332-4463, Oregon Coast Visitors Guide.
Pennsylvania
Academy of Natural Science Museum. Fourteen complete life-size, nests, hatchlings, footprints (one you can crawl into.), even an animated Apatosaurus and the marine reptile Elamosaurus are all on display at this museum, which is one of the oldest in the US. Philadelphia. The Academy of Natural Sciences offers a wide range of enriching experiences for the whole family; see the site for more details. 1 (215) 299-1000, www.ansp.org.
The Carnegie Museum of Natural History. Eleven different dinosaur skeletons are all on display, including Allosaurus, Stegosaurus, Diplodocus, Apatosaurus and Tyrannosaurus rex. Explore the museum's rich paleontological history, check in with the PaleoLab, and learn more about future plans for Dinosaur Hall! Pittsburgh. 1 (412) 622-3131, www.carnegiemnh.org.
South Dakota
Mammoth Site of Hot Springs. The site of a mass mammoth bone bed, where now visitors can join expert paleontologists in exploring the secrets left behind by these Ice Age elephants, or examine previously excavated exhibit material. From June 15-Aug 15 a Junior Paleontologist Dig is available for kids 4-13 for $6.00 per child. Call the museum to make reservations and get more information. Hot Springs. 1 (605) 745-6017, www.mammothsite.com, mammoth@mammothsite.com.
Badlands National Park. Varied collections of fossils, ranging from ancient mammalian giants to tiny prehistoric mice, are on display in the visitor center. Interior. 1 (605) 433-5361, www.nps.gov/badl/index.htm.
Tennessee
Memphis Pink Palace Museum. Features dinosaur tracks, a mastodon skeleton cast, and a life-size Dilophosaurus model on display. There are also special exhibits on marine invertebrate fossils and other natural science topics. Memphis. 1 (901) 320-6320, www.memphismuseums.org.
Texas
Dallas Museum of Natural History. The only collections-based, research-driven public natural history museum in Texas features a large exhibit on paleontology. There is also a Paleontology Lab, an exhibit on Prehistoric Texas, a Lagoon Nature Walk and several wildlife dioramas. With working archaeologists and paleontologists on staff, the museum not only repackages and interprets scientific knowledge but also actively expands its frontiers. This is the first place I saw automated dinosaurs. It was then and is now a great learning place for families. I even ate peas just so my grandmother would take me to this museum. Dallas. 1 (214) 421-DINO, https://www.perotmuseum.org/.
Shuler Museum of Paleontology. The museum's director, Dr. Louis Jacobs, is a wold-famous paleontologist. When you visit the Shuler Museum of Paleontology you'll be able to examine much of his work firsthand. Dallas.1 (214) 768-2000, www.geology.smu.edu/~vineyard/shulermus.html Fort Worth Museum of Science and History. The native Texas dinosaur, Tenotosaurus is highlighted at this museum, as well as an actual replica of the Doss Ranch bone beds, in which Dinosaur fans of all ages can experience real-life paleontology, without suffering rugged conditions. Fort Worth. 1 (817) 255-9300, 1-888-255-9300 or www.fwmuseum.org.
Utah
Dinosaur National Monument. World-famous as one of the richest dinosaur bone beds ever discovered, it provides an opportunity to explore fossil remains of nine different species, in a single location. Jensen. 1 (425) 789-2115, www.nps.gov/dino/index.htm.
Utah Museum of Natural History. Located on the campus at the University of Utah, this museum has a diverse fossil collection that is well known in the world of paleontology. Featured are Allosaurus, Barosaurus, Catosaurus and Stegosaurus in full skeletal mounts. Salt Lake City. 1 (801) 581-6927, http://umnh.utah.edu/home or webmaster@umnh.utah.edu.
Virginia
Virginia Museum of Natural History. Unique to this museum is a computer-controlled Triceratops model. Due to the excellent paleontological staff the exhibits reflect the expertise of those working at the museum. On display are smaller dinosaur models, and a wealth of dinosaur track-castings. There's an animated Triceratops nicknamed "Cera" also on display. There are two other branches of this museum, one in Charlottesville, and the other in Blacksburg. All three facilities present exhibits, programs, and field trips for the general public. They also offer teacher-training seminars, special publications for teachers on natural history called "Nature Notes" and science kits for classroom use. Their "Museum Without Walls" provides traveling exhibits and fun science education kits to the state of Virginia and classroom programs within a one-hour radius of the museum. Martinville. 1 (703) 666-8600, www.vmnh.net.
Washington
Pacific Science Center. Offers a variety of dinosaur fossils, including a full-scale skeletal cast of Mamenchisaurus, dinosaur footprints, and a cutaway model of a Tyrannosaurus rex leg, as well as a children's center with hands-on dinosaur games and learning materials. Seattle. 1 (206) 443-2001, 1(206) 443-2925 (for family-specific activities), www.pacsci.org.
Wisconsin
Dinosaur Discovery Museum.  Focuses on the link between birds and meat-eating dinosaurs (theropods).  Offers dino digs for children ages three and up on most Saturdays.  Kenosha. 1 (262)-653-4450, www.kenosha.org/dinosaurdiscovery/index.html.
---
Author's Note: In addition to feedback from readers who contributed pointers about places, my main reference source for this updated list is an excellent book by Kelly Milner halls. Halls, Kelly Milner. Dino-Trekking: The Ultimate Family Guide to Fun with Dinosaurs. Wiley, John & Sons, Incorporated. January 1996. It has an excellent one to three "bone" rating system for dinosaur sites, as well as great places to purchase dinosaur paraphernalia across the U.S. and even in Canada. It does not have Websites for reference but it does have useful comments and information from museum curators.
My second resource is personal experience. I have been to many of the places mentioned. My advice to parents, "Go before your children turn ten."
This information has been supplied to KOA.com by Amanda Nelson-Duac of the familytravelfiles.com Travel Communications, Inc.
Online Travel Magazine, Marketing and Content Services
Main Office:
16913 Rolling Rock Dr.
Tampa, FL 33618
(813) 968-4799
© 2003 Travel Communications, Inc.
Content syndication services provided by TheFamilyTravelFiles.com