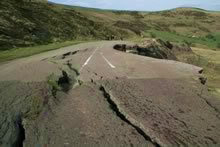 Provided by NOAA's
National Weather Service
Facts
An earthquake is the sudden, sometimes violent movement of the earth's surface from the release of energy in the earth's crust.
There are over a million earthquakes that occur annually, including those too small to be felt.
One earthquake is felt approximately every 30 seconds.
Preparedness
Know what to do when the shaking begins:
DROP, COVER, AND HOLD ON!
Stay indoors until the shaking stops and you are sure it is safe to exit.
If you are in bed, hold on and stay there, protecting your head with a pillow.
If you are outdoors, find a clear spot away from buildings, trees, and power lines. Drop to the ground.
If you are in a car, slow down and drive to a clear place. Stay in the car until the shaking stops.
Identify what to do after the shaking stops:
Check yourself for injuries.
Check others for injuries. Give first aid for serious injuries.
Look for and extinguish small fires, and eliminate fire hazards.
Listen to the radio for instructions.
Expect aftershocks. Each time you feel one, DROP, COVER, AND HOLD ON!
Use a telephone only to report life-threatening emergencies.
Click for more information regarding earthquakes from the American Red Cross