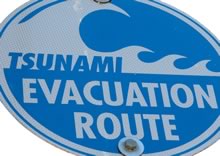 Provided by NOAA's
National Weather Service
Facts
A tsunami is a series of ocean waves generated by sudden displacements in the sea floor, landslides, or volcanic activity. In the deep ocean, the tsunami wave may only be a few inches high. The tsunami wave may come gently ashore or may increase in height to become a fast moving wall of turbulent water several meters high.
Although a tsunami cannot be prevented, the impact of a tsunami can be mitigated through preparedness, timely warnings, and effective response.
NOAA has the primary responsibility for providing tsunami warnings to the nation, and a leadership role in tsunami observations and research.
Preparedness
What to listen for:
Heed natural warnings

An earthquake may serve as a warning that a tsunami is coming.
A rapid fall or rise in coastal water may also serve as a warning of an impending tsunami.
Save your life, not your belongings and move uphill or at least inland, away from the coast, and stay there.

Heed official warnings

Play it safe, even if warnings seem ambiguous or you think the danger has passed.
Save your life, not your belongings and move uphill or at least inland, away from the coast, and stay there.

Expect many waves

The next wave may be bigger, and the tsunami may last for hours.

Don't count on the roads

When fleeing a tsunami caused by a nearby earthquake, you may find roads broken or blocked.

If trapped by a tsunami and unable to reach high ground, go to an upper story or roof of a sturdy building.
As a last resort, climb a strong tree if trapped on low ground.
If swept up by a tsunami, look for a floating object you can climb onto and use as a raft.
If a campground's alarm system relies on electricity, have an alternate method to notify campers in case of power failure.
NOAA Weather Radio is the best means to receive warnings from the National Weather Service.
Definitions
Tsunami Watch: An alert is issued to areas outside the warned area. The area included in the watch is based on the magnitude of the earthquake. For earthquakes over magnitude 7.0, the watch area is 1 hour tsunami travel time outside the warning zone. For all earthquakes over magnitude 7.5, the watch area is 3 hours tsunami travel time outside the warning zone. The watch will either be upgraded to a warning in subsequent bulletins or will be cancelled depending on the severity of the tsunami.
Tsunami Warning: Indicates that a tsunami is imminent and that coastal locations in the warned area should prepare for flooding. The initial warning is typically based on seismic information alone. Earthquakes over magnitude 7.0 trigger a warning covering the coastal regions within 2 hours of tsunami travel time from the epicenter. When the magnitude is over 7.5, the warned area is increased to 3 hours tsunami travel time. As water level data showing the tsunami is recorded, the warning will either be cancelled, restricted, expanded incrementally, or expanded in the event of a major tsunami.
Click for more information regarding tsunamis from the NOAA's National Weather Service