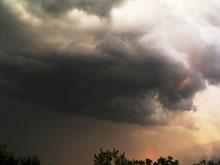 Provided by NOAA's
National Weather Service
Facts
NOAA's National Weather Service considers a thunderstorm severe if it produces hail at least ¾-inch in diameter, winds of 58 mph or stronger, or a tornado.
Severe Thunderstorms can produce wind speeds in excess of 100 mph.
Severe thunderstorm winds can cause damage equal to a tornado.
Large hailstones can fall at speeds faster than 100 mph.
Preparedness
Ask a campground staff member what they have in place to notify campers of a severe weather warning and ask if they have an alternate method to notify campers in case of a power failure if the alarm system relies on electricity.
Identify a shelter area where you should go in case of imminent severe weather.
Have a NOAA Weather Radio with a warning alarm tone and battery back-up to receive warnings.
NOAA's National Weather Service watches and warnings are also available on the Internet at www.weather.gov.
Listen to radio and television for weather information.
Check the weather forecast before leaving for extended periods outdoors. Watch for signs of approaching storms.
Definitions
Severe Thunderstorm Watch: Tells you when and where severe thunderstorms are likely to occur. Watch the sky and stay tuned to know when warnings are issues.
Severe Thunderstorm Warning: Issued when severe weather has been reported by spotters or indicated by radar. Warnings indicate imminent danger to life and property to those in the path of the storm.
Click for more information regarding thunderstorms from the NOAA's National Weather Service